Exakis Nelite joins the PTC partner network
Exakis Nelite joins the PTC partner network
Exakis Nelite is now a partner of PTC, a global publisher focusing on Internet of Things technology.
This partnership strengthens Exakis Nelite's positioning in the industry in two ways:
Through an offer that promotes innovation by connecting up the production line
By digitizing Lean Manufacturing processes
Why PTC?
PTC is a global software publisher that markets technology solutions and platforms. It aims to help industrial companies to transform the way they design, manufacture, operate and maintain their products in a smart, connected world.
A pioneer of digital 3D design and web-based PLM (product lifecycle management), today a leader in technologies dedicated to the Industrial Internet of Things (IIoT) and Augmented Reality, PTC works to address the following:
Achieve a much more efficient way to create and deliver easily consumable work instructions by overlaying digital content onto real work environments.
Kick-start the digital transformation by using the IoT for strategic pilot projects while developing solutions to redesign your organization.
PTC, for whom and why?
Industry 4.0, helping companies to transform their operations across all areas, is gaining momentum and speeding up transformations.
PTC provides solutions that allow manufacturers around the world to achieve digital continuity, to create value for themselves and their customers and speed up their return on investment.
"Assisted by Microsoft solutions, this partnership allows us to offer a comprehensive, consistent offer to meet the needs f the most complex business processes, from collaboration to digitization." Didier Zeitoun, Chairman of Exakis Nelite.
These tools, which are popular in the industrial world and hosted on Microsoft Azure, make it possible to design solutions that are perfectly secure and integrated with IT systems.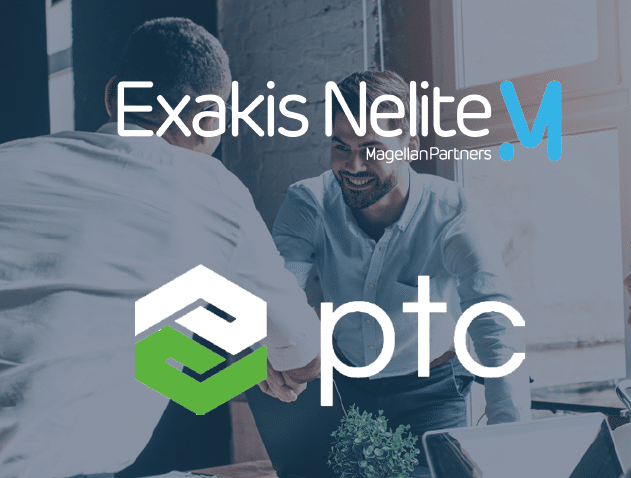 Discover Exakis Nelite
Exakis Nelite, a Magellan Partners Group entity, is the leading independent Microsoft pure player partner in France with its sights set on becoming the leading partner in Europe and in French-speaking Africa thanks to its strong presence in Morocco.